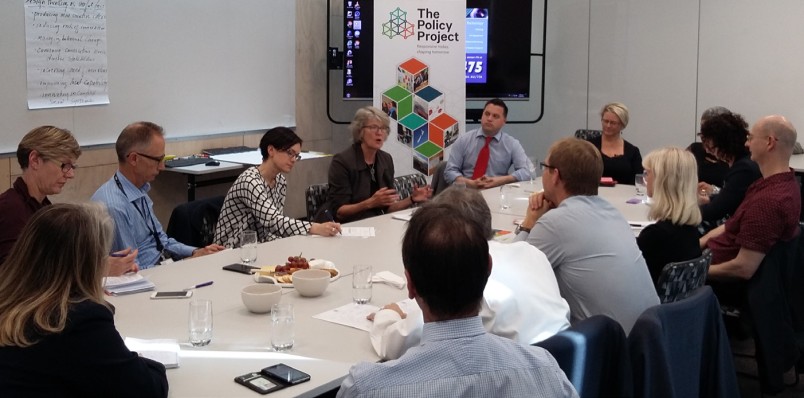 Dr Brook Barrington, Chief Executive of DPMC, is Head of the Policy Profession. As Head of Profession, Brook is responsible for improving the policy system – that is, the capabilities, systems, processes and standards. (Responsibility for the provision of specific policy advice remains with relevant government departments and chief executives).
The Policy Project team is supported by the role of the HoPP.
The Tier 2 Policy Leaders Network - Deputy chief executives with policy responsibilities from across government are also key partners.
Policy Capability Leads - Nominated by each agency.
The HoPP and Policy Project host regular roundtables for policy leaders to engage with local and international experts in methods and analysis related to policy. Read about some of the roundtables here:
Creating the conditions for innovation in government - Leaders Roundtable with Brenton Caffin (24 October 2019)
Foresight for Governance in Singapore (23 May 2019)
Future Generations (10 April 2018)
Behavioural Insights (5 December 2017)
Making value manageable (8 August 2017)
Use of evidence in public policy (21 June 2017)
Understanding Public Value - Leaders Roundtable with Professor Mark Moore (5 May 2017)
Policy Stewardship (26 April 2017)
Co-production in government: why, when and how? - Roundtable with Tony Bovaird & Dr Elke Loeffler (21 March 2017)
Leaders roundtable with Professor Jeanne Liedtka (23 September 2016)
Jeanne Liedkta seminar: Designing for social good (24 September 2015)
Creating a Policy Heat Map (18 July 2015)
Seminar series: Dave Snowden - Cynefin framework, sense making, complexity theory and exaptation (06 March 2015)
Seminar series: Dr Zina O'Leary - Authentic story-telling: adding persuasion to the policy tool kit (18 February 2015)
Seminar series: Dr David Albury - Innovation in policy (18 November 2014)
Seminars series: Dr David Halpern - What works? – developing an infrastructure for quality policy (06 June 2014)
Lifting the Policy Game (8 May 2014)
Building buy-in and making the model stick (26 September 2013)