The interagency National Exercise Programme was established in 2013 with the aim of ensuring New Zealand is prepared to effectively respond to national security events on or offshore.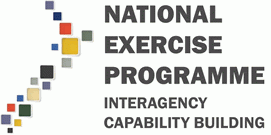 Background to New Zealand's national security system
New Zealand identifies national security risks on an "all-hazards" basis. This means that all risks to national security, whether internal or external, natural or man-made, are included within the scope of our national security system, and agencies need to be prepared to respond and recover in a coordinate manner.
About the National Exercise Programme
The National Exercise Programme is chaired by the Department of the Prime Minister and Cabinet and reports to the Hazard Risk Board (the NSS governance body responsible for building resilience). The National Exercise Programme builds capability across government through a coordinated series of interagency readiness activities, measured against a set of national objectives. Capability is also built through the capture and sharing of lessons identified from previous events and exercises.
Exercise Whakautu II from DPMC - NZ on Vimeo.
Exercise Whakautu II video courtesy of Maritime New Zealand
---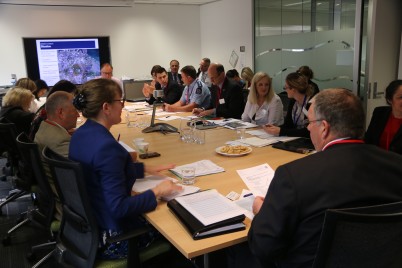 The National Exercise Programme is supported by a Planning and Coordination Team which maintains oversight of nationally significant exercises; supports national exercising consistency and reduces duplication of effort; and provides guidance to agency-led exercise writing and planning groups. It plays a critical part in ensuring that all national exercises are designed to a high standard and that information is communicated in a timely manner in order to facilitate good exercise planning amongst all agencies. The NEP Planning and Coordination Team also serves as a platform for connectivity, mentoring and relationship-building between agencies.
Exercise Schedule
In May 2018, the Hazard Risk Board approved a schedule of exercises to take place between 2018 - 2023. Some of the key exercises are listed below:
FY 2019/2020

Biosecurity – Exercise MATAARA

Regional instability – Exercise SOUTHERN KATIPO

Terrorism – Exercise GUARDIAN

FY 2020/2021

Terrorism – Exercise RESOLUTION

Alpine Fault earthquake scenario

FY 2021/2022

Search and Rescue

Whole-of-Government Business Continuity

FY 2022/2023

Major industrial incident

Simultaneous natural disaster/health event

Major maritime incident

Space weather/infrastructure failure
To note, the schedule is designed to be flexible, and the Programme may change to address new risks as they arise, as well as to take into account the need for agencies to respond to real emergencies when they occur.
This is not a complete list - for details of the full programme, please contact nep@dpmc.govt.nz
How you can get involved
In order to be successful, the National Exercise Programme needs to engage a wide range of government, industry and non-government organisations.
There are a range of opportunities for organisations to be involved in National Exercise Programme activities. These can range from observing exercises through to fully participating in the planning and delivery of activities. Organisations are also able to link into National Exercise Programme events to facilitate the testing of their own readiness and business continuity processes. If you think your agency wants to get involved, then contact the National Exercise Programme Planning and Coordination Team at nep@dpmc.govt.nz
Resources
A number of exercise documentation templates have been developed by the NEP Planning and Coordination Team to assist you in writing and managing your agency's exercise.
CDEM Exercise: Director's Guidelines for Civil Defence Emergency Management Groups
These guidelines provide a range of practical advice and templates for exercise developers to:
analyse the need for an exercise
design an exercise
conduct an exercise, and
evaluate an exercise.
Exercise Concept template (DOCX 43 kb)
The purpose of the Exercise Concept is to provide initial information on the exercise to Management and to obtain official sign off.
Exercise Warning Order template (DOCX 44 KB)
The purpose of the Warning Order is to provide advance warning to likely participants that an exercise will be conducted and details key components of the exercise. It consists of an overview (confirming the approval of the exercise concept) and contains formal invitations and information to other participating agencies.
Exercise Coordinating Instruction template (DOCX 119 KB)
The purpose of the Coordinating Instruction is to set out the key measures to ensure the exercise is run smoothly. It is designed with two audiences in mind:
managers of participating agencies who have to allocate staff time and other resources to the proposed activity, and
the exercise planning team who need clear parameters with which to work.
Exercise Instruction template (DOCX 47 KB)
The purpose of the exercise instruction is to outline essential exercise information including administration arrangements specific to each participating, such as roster details, communication plans, and meal break times and how the exercise will be controlled. It should be distributed to all exercise participants.
Post Exercise Report template (DOCX 122 KB)
The Post Exercise Report should summarise the activity that has occurred and identify those areas, positive and negative, that require reinforcing or corrective action, respectively. From the lessons identified, a plan should also be established on how the remedial action will occur and a suitable timeline, to ensure these lessons become lessons learned.